Top posting users this week
Our Affiliates
OUR WEBSITE BUTTON
OUR FRIENDS
Donations
Thank you for visiting the Realm of Zero, you can show your appreciation and support of future development by Donating. Visit the Store after Donating!

Name of Weapon: Stomper
Image/Description: Stomper is a tower shield with layers upon layers of steel to help keep it durable. It's large size makes it hard to move when carried. The tower shield has several sets of spikes on the bottom allowing it to be rammed into the ground blocking even the mightiest of blows. The shield has a wolf with red eyes curved across it, this is harder to see, however, due to the large amount of small hooks used to bash into the opponent and hook their armor leaving them to fend for themselves.
Effect(s): Stomper is a large tower shield with small hooks curving upwards to hook charging opponents and several spikes to lodge into the ground. Because of this the shield can block attacks without causing Tyr to not break his guard while the shield is in the ground.
Drawback(s): This shield is HUGE and slows Tyr down greatly. It also takes a post to slam it into the ground and another post to pull it back out. Due to this, quicker enemies can simply charge behind the shield.
Type: Defensive/Offensive (This shield is a combo with a very offensive weapon down the line.)
Class: B
Name of Weapon: Exorcist
Image/Description: Exorcist is a lead spraying gun that shoots .950 JDJ Slug rounds which have been blessed to be especially painful to demons. It has 3 different places to load the gun, just in case it jams.
Effect(s): This gun can fire 6 times before reloading, they are extremely effective especially towards demons.
Drawback(s): This gun takes an EXTREMELY long time to reload (10 posts), and if Exorcist is not attached to his shield, Stomper, the knockback blows Tyr back 20ft and damage him.
Type: Offensive
Class: Offensive
Name of Weapon: Wargslayer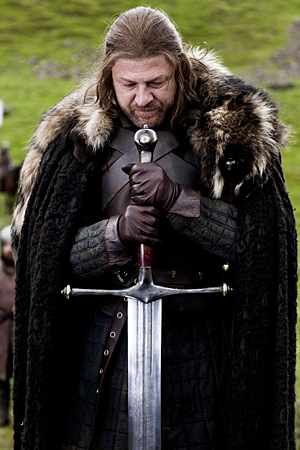 Image/Description: This blade is extremely large, blood has seen and heard the stories of Tyr's disastrous defeats and glorious victories. His main weapon of choice, allowing him to wield it as if it was nothing despite the size. It's large size makes breaking through skin and bone like slicing through air. A noticeable carving in the center cries the name Fenrir.
Effect(s): This weapon can be used to give momentum to Tyr, allowing him to do several different complicated maneuvers using the weight of the weapon. With the sheer size alone it is easier to break the block of opponents.
Drawback(s): It being Tyr's main weapon, him being trained doesn't mean he can be weighed down with it. He cannot use his other pieces of equipment with this weapon, only leaving him with his raw swordplay and skills.
Type: A
Class: Offensive/Defensive



Posts

: 19


Join date

: 2015-05-31

Persona Character
Deity:
Race:
Stat Chart:

| | |
| --- | --- |
| Stat Chart | Score |
| Strength | |
| Speed | |
| Agility | |
| Endurance | |
| Toughness | |



Admin




Posts

: 369


Join date

: 2015-05-17


Age

: 21


Location

: ...under your bed...

Persona Character
Deity: Deity of Love, Reiki & Crona
Race: Human
Stat Chart:

| | |
| --- | --- |
| Stat Chart | Score |
| Strength | 3 |
| Speed | 3 |
| Agility | 3 |
| Endurance | 3 |
| Toughness | 3 |





Similar topics
---
Permissions in this forum:
You
cannot
reply to topics in this forum