Top posting users this week
Our Affiliates
OUR WEBSITE BUTTON
OUR FRIENDS
Donations
Thank you for visiting the Realm of Zero, you can show your appreciation and support of future development by Donating. Visit the Store after Donating!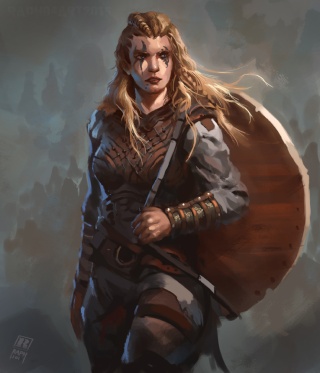 Age: 34   Human
Status: Missing In Action
Shiva was a strong woman, both physically and mentally. During her years growing up Shiva was trained in the North by multiple masters in sword combat. Her form was impeccable and known as the Ultimate Defense, alongside her shield wall that would never fall in battle. 
At the age of 16 Shiva was given an army from father, equipped with ill trained men and filled with bandits and theives who were to be on Death Row. Commanded to move forward with her unit to quell down a barbarian invasion from a neighboring tribe. Determined to prove her worth, she marched down used multiple Hit-and-Run tactics and her knowledge of the land. Eventually earning the support and surrender from the opposed tribe. She would than take the North by her momentum, claiming it a United Nation.
At age 24 Shiva had encountered her first dragon, a water dragon, the only living creature opposing her reunited nation from being created. Aided with her unit of 200 able men, she lost horribly and was left to die in the cold. After suffering a crushing defeat many believed Shiva to be dead, and she wandered the North by her lonesome. Unable to deal with her loss, and failure to create her dream she erupted in rage. Swearing vengeance to the Dragons and began by hunting down the Water Dragon that had destroyed her Pride, Reputation, and dream.
By age 26 Shiva had finally found her Dragon. After 3-days of what seemed to be an endless fight. Shiva had been beaten to the ground in her 1-vs-1 Duel.  Tossed aside by the dragon and straight into the patches of snow. As the dragon began to spew out it's breath attack, Shiva pulled out her hand and unlocked her power, freezing the Dragon with her powers of ice.
By age 36 Shiva had spent nearly 10 years with mages and wizards around Kiru City, the place where no one would recognize her to cultivate her skills. Shiva would eventually return to the North to regain her reputation. Claiming knowledge of a way to defeat the dragons she ventured out with her army once more. 
Drawing in the dragons with all her riches, and all her wealth, not to mention an army. She lured in nearly a hundred dragons.  She used her ultimate ability to Perma Freeze all the dragons and what was left of her men, in hopes that they never again may rise up against the people of the Realm.
In honor of her memory, the people of Kiru City and the tribes of the North erected a giant Tomb of Ice in the northern plains, to keep the dragons, and praise her great sacrifice. Thus the Tomb of Shiva was created.
Admin




Posts

: 530


Join date

: 2013-08-13


Age

: 22


Location

: Miami, FL

Persona Character
Deity: Deity of Wrath, Kodru
Race: Human
Stat Chart:

| | |
| --- | --- |
| Stat Chart | Score |
| Strength | 4 |
| Speed | 3 |
| Agility | 4 |
| Endurance | 3 |
| Toughness | 3 |




---
Permissions in this forum:
You
cannot
reply to topics in this forum