Top posting users this week
Our Affiliates
OUR WEBSITE BUTTON
OUR FRIENDS
Donations
Thank you for visiting the Realm of Zero, you can show your appreciation and support of future development by Donating. Visit the Store after Donating!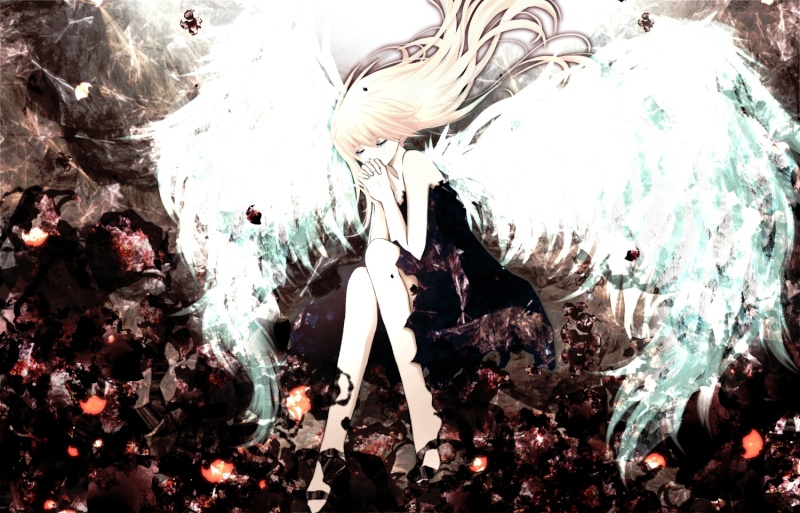 Name:
Seijuuna Xephtelos (but known as Yuuna)    
Age:
17    
Origin/Home:
Glacial Plains/Unknown Village    
Gender:
Female    
Deity:
Terra    
Sexual Orientation:
Straight    
Race:
Angel    
Background/History:
Seijuuna's birthplace is still currently unknown and she, herself, doesn't know her birthplace either. The only thing that was known was that she was found in the Glacial Plains and was lucky that she wasn't frozen to death yet. It wasn't that difficult for her to know that she was an angel because up until she was five, she wasn't able to hide her wings but because she doesn't want to be seen like that. At five and a half years old, the village she was formerly living in got burnt down by a man, that she can never ever forget. After that day, her life is like a living hell up until she was fifteen but at the age of sixteen, she was forced to steal goods from people that was against her will but she needed to since she was hungry and she wasn't sharing it to herself to but also to people that doesn't have food.    
Personality:
Seijuuna is a loud, tomboyish and somewhat rebellious young lady or angel. Despite of her race and appearance, she appears to be different from what everyone had expected her to be which annoyed her very much. Though, it would be more annoying if her hair is shorter, but this doesn't mean that she dislike to be mistaken as a human than angel since almost everyone only mistakes her to be gentle because she looks like a human. She also display an air-headed to other people that already knows of her attitude but this is not on purpose. She is actually as knowledgeable like other angels out there.
She is considered as mysterious since she immediately changes the topic whenever someone asked on what her race is, full name, etc. Seijuuna is a great actress in which she is proud of since it comes in handy whenever she is in a life and death situation or something that she needs to act to. She can be sarcastic at times but this is only whenever she is not in the mood to do something or when she feels like it. Despite all this rebellious acts of her, she deeply cares for everyone and prefers peace than war or more specifically, she is still an angel that has speckled softness that is deep withing the depths of her heart.
One thing that can be noted is that she shows no real emotion towards anyone but this may change in the future. Seijuuna is slightly a tsundere and loves harmony and musical instruments, as well as kendo and swordplay. She is not a weapon geek but a weapon freak. And secretly worships the deity, Terra.
When in battle, she ignores the pain whenever she is attacked as she remains calm and collected. Seijuuna also gets deadly serious whenever in one. When she is about to win the battle or so she thought that she was going to be, she always say 'checkmate'.    
Likes:


The happiness of everyone is what she cherish and likes the most, especially children's because it makes her happy to see someone happy.

Animals are the cutest thing that had ever existed in this entire universe, what animal she likes the most? Everything! From insects to animals, she loves them and will take care of them. This is one of the reason on why she worship the Deity, Terra.

Dislikes:


Being an angel since everyone expects an angel to be all holy and kind to everyone. Much, to her annoyance.

Mate/spouse/lover:
N/A  



Posts

: 14


Join date

: 2015-06-19


Age

: 16

Persona Character
Deity: Deity of Nature, Terra
Race: Angel
Stat Chart:

| | |
| --- | --- |
| Stat Chart | Score |
| Strength | 3 |
| Speed | 4 |
| Agility | 4 |
| Endurance | 3 |
| Toughness | 4 |



Admin




Posts

: 369


Join date

: 2015-05-17


Age

: 21


Location

: ...under your bed...

Persona Character
Deity: Deity of Love, Reiki & Crona
Race: Human
Stat Chart:

| | |
| --- | --- |
| Stat Chart | Score |
| Strength | 3 |
| Speed | 3 |
| Agility | 3 |
| Endurance | 3 |
| Toughness | 3 |




---
Permissions in this forum:
You
cannot
reply to topics in this forum