Top posting users this week
Our Affiliates
OUR WEBSITE BUTTON
OUR FRIENDS
Donations
Thank you for visiting the Realm of Zero, you can show your appreciation and support of future development by Donating. Visit the Store after Donating!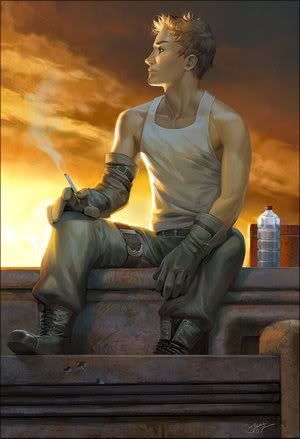 Name:
Quindaro    
Age:
22    
Origin/Home:
in the forest on the outskirts of a large town    
Gender:
Male    
Deity:
Not Decided yet    
Sexual Orientation:
Heterosexual    
Race:
Human    
Background/History:
Quindaro J. Putzkan, born into a well known middle class family that lived just outside the city of Teltzmor. As an adolescent was well behaved and talented, his father whom was a contractor and his mother was a stay at home mom. During his mid teens, Quin's father was being undercut by different businesses who came into town later in the year. The following winter was tough and having speed over quality seemed to take importance. Yet they made it through a couple years more on faithful customers. Quin's mother fell ill shortly before he was to turn 19. Bedridden she would not be able to do much during the day, unless it was a simple tasks. Trying to keep his mind off of what could happen, Quin expressed an interest in target shooting and mechanics to his father, in hopes that he could possibly keep him out of the rut that seemed to heavily loom in the air. Months passed and Quin's mother still hadn't gotten any better, in fact she'd gotten worse. She developed Dementia, and her nerves were beginning to die.This furthered his father's problems, causing him to drink heavily, even to the point when Quin would come home from his job, he would find his father faced towards the fireplace in his armchair, often drunk and asleep. A month went by and his mother passed away in her sleep due to her central nerve cortex finally stopping the signals for her heart. Both of them grieved over her for a couple of days, before finally cremating her upon a pyre deep in the forest before burying the remains, marking the area with an ornately plain gravestone that had her name carved in. Hours later Quin had already been inside after paying his respects, He noticed that his dad had still not returned. Grabbing a flashlight he ran to the burial ground, where he'd found his dad had nearly passed out on the ground out of complete spiritual exhaustion and sadness.taking a look at the already darkened sky, he decided to take his father inside or he could catch a cold if left out there. Mustering up his strength, he pulled him up and half carried half dragged him all the way home. Four months passed since then, Quin's father was better, but still very sensitive about his late wife. Quin on the other hand, had since passed the mourning stages and started to work on his mechanics abilities. On the side he'd make it part of his daily ritual, to spend a couple of hours on his combat skills and work on his new chopper he'd recovered from a local scrapyard. Hearing whisperings of a group of demons that had attacked a small village a couple of weeks ago. The papers were gradually causing a bit of worry, and some of the more, erratic people started preaching about the town to arm and train civilians, or to leave the town for it is doomed. Quindaro discarded these people, and went about his business as usual. A few more years flew by, and Quindaro turned 21, on September eighteenth. He and a few friends celebrated by having a party at the Iron brew pub in downtown Teltzmor. But it so happens fate has a weird way of treating people. The day he arrived back home after sobering up from a decent hangover, his dad had left for a few days, describing in a note that he was conducting a "Business deal" in another town and for him to watch the house for the next couple of days also wishing him a very happy twenty first birthday along with the bottle of whiskey that his dad declared 5 years ago that he would save for him when he finally was of age to drink. A week passed passed and Quin started to worry as he'd not received any word from his father. He then went about his father's office, scuffing about his notes and journals, but alas not finding anything but boring contractors trife. That was until he found a small drawer that was locked. Peaking his curiosity he picked it open, there he found a stack of letters that held a purple tinge along with a perfume that coated them. After about ten minutes he rustled through the stack, to the more recently dated ones, finding that they were addressed from some woman at a far out town. He started reading through some of them the contents were formal at first, from a sympathizer but as time drug, the letters were more convincing as they went on. Grinning he put the letters back as he found them. His old man had lied to him so he could meet a girlfriend. That was until he received a letter of the same manner but addressed to him, he smelled the perfume on the envelope and it seemed that it had an element of persuasion to make him open it and read. Halfway through reading his will broke through and he could actually read the letter for what it was. A succubus' letter, and they had his father who was as read in the letter, fed up with grief, and sold his soul to stay with the "Boss" for eternity. After reading this Quindaro backed up against a wall and clutched the paper in his hand before tossing it across the room, cursing mildly at his father's stupid lonely nature. After a day of drinking, Quindaro went down to the town hall to declare his dad has gone missing and that he would now maintain ownership. To his dismay, he found that his house was foreclosed for his father hadn't paid in the 4 months and now they wanted Quin to move out within 30 days. After 15 days he finally got everything out of the house and stored away properly. The 16th day he visited his mother's grave and gave her a short blessing and confessing what he would do but also apologized for his and his father's actions, before giving his final goodbye to her. The 17th day then rolled in, that's when it happened. Fire had engulfed most of the town, the demon raiders flew in setting flame to most of the buildings as their dogs and minions killed and captured the townspeople. Quindaro watched from atop a hill miles out from the suffering town of Teltzmor, the people he'd grown caring for were dying or being tortured now, and there was nothing he could do but watch from a distance. That was when he saw a demon with a purple glow fly in and land on the crucifix of the church at the end of town. Quindaro's full attention brought to the demon as it opened it's cage that held his father, whom was not human anymore, he clearly thought that Quin would be amongst the townspeople and give in to his father's will, for that was not his father anymore. It was a demon wearing his face. Quindaro, feeling as if he could upchuck, turned around and mounted his chopper and rode to the west, leaving the nightmare behind. One day he'd have to dive into the hell again to retrieve his father or to kill him and let his soul be with mother's. But until that day, he'd have to keep riding and build a new life, just as his father and mother had.    
Personality:
Sometimes can appear cold to people if he doesn't know them. But will warm up to those who are keen to listening and understanding. He can be a bit brash at times when the feeling of passion arises especially in desperate times. He tends to be a bit of a gearhead at times often working on something while others may need him.    
Likes:
Coffee, Guns, Machinery, Choppers (Motorcycles), Friends, occasionally Cigarettes    
Dislikes:
Spiders, Demons, That time when the coffee pot is empty at night and he needs to pull an all nighter.    
Mate/spouse/lover:
None  



Posts

: 64


Join date

: 2015-06-15


Age

: 21

Persona Character
Deity:
Race: Human
Stat Chart:

| | |
| --- | --- |
| Stat Chart | Score |
| Strength | 3 |
| Speed | 3 |
| Agility | 3 |
| Endurance | 3 |
| Toughness | 3 |






Posts

: 64


Join date

: 2015-06-15


Age

: 21

Persona Character
Deity:
Race: Human
Stat Chart:

| | |
| --- | --- |
| Stat Chart | Score |
| Strength | 3 |
| Speed | 3 |
| Agility | 3 |
| Endurance | 3 |
| Toughness | 3 |



Admin




Posts

: 461


Join date

: 2015-06-03


Age

: 25


Location

: n/a

Persona Character
Deity: Deity of Shadows, Ryner
Race: Demon
Stat Chart:

| | |
| --- | --- |
| Stat Chart | Score |
| Strength | 5 |
| Speed | 3 |
| Agility | 4 |
| Endurance | 4 |
| Toughness | 3 |




---
Permissions in this forum:
You
cannot
reply to topics in this forum